Happy Valentine's Day!
Brought to you by
xkcd.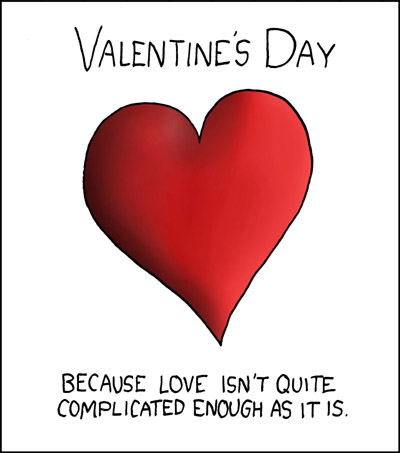 ...
Oh, plenty to blog-blog-blogity-blog-blog - jeez, have the Valentine's day start off with a rejection from Olivia, (which, as it looks, at least won't ruin our friendship - I hope). Toss on the fact that work comes crumbling down in a little sense. It's not too bad, it leads to some great prospects with the team and personal goals / success. I think it's really time to sit down and meditate on the ramifications and where it'll really take me. Or rather where I want to go with it. And then, instead of just sitting at home, I ended up hitting the town with Shan, which turned out to be a fun drunken debaucle - with FAR too many references of him getting lucky that night with me... kinda terrifying if he didn't have a girl coming up the next day and I was SO sure he was straight haha. Add on once more, some strangely homosexual repsonses from Justin after telling me that Sarah had sent me a letter on myspace that she was regretting about how wonderful of a catch I was (joking... but still creepy. Which of course, led to me dishing out a rejection to Sarah, because well, I wasn't interested. Fucked up.

So tell me, what kind of a meeeesssseeedddd up Valentine's day leads to getting rejected, giving a rejection, having a huge upset at work, and two streams of creepy homosexual comments from your straight friends?
To the strangest Valentine's Day ever - someone upstairs has quite a sense of humor - haha :p