Adventure!
Man, I love xkcd - one of the many things that just about always makes me laugh.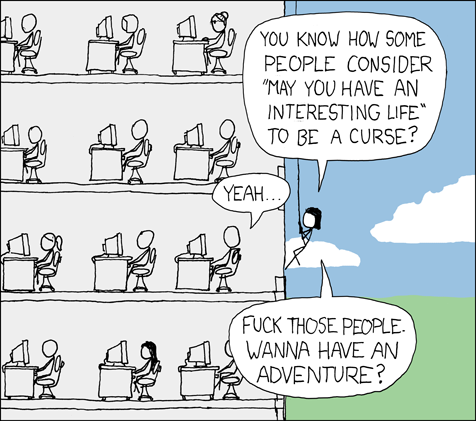 Wanna have an adventure? First line in how great stories start :)
Too many people haven't been having adventures in their lives - my list just keeps getting bigger and bigger, and I'm finally starting to plan out knocking some of them off. Here's a few
- Carve up more blue runs on a snowboard
- Go to Vegas with friends
- Make a weekend trip out to New Orleans
- Go to more wine tastings in Dallas
- Get a backpack (and maybe a friend) and hop on my bike and ride out to nowhere and see where I end up in a week. Then ride home.
- Do some real, climbing mountains rock climbing!
- Make some crazy awesome badass stuff every day (check!)
So what's your next adventure?